"We are what we repeatedly do. Excellence then, is not an act, but a habit." -Aristotle


"I had the pleasure of having Mrs. Donyale Lewis plan my wedding. She was very professional, organized, friendly and extremely knowledgeable in this field. She was there to take care of all of the details and kept the entire day running smoothly. I would highly recommend Donyale as your wedding planner. Thank you so much Donyale for all your hard work... :-) :-)" ~Darlene Centeno-Davis

"Mrs. Lewis handled my 13th birthday party. She came up with creative ideas that made my friends super jealous. The glow in the dark theme was awesome and the decorations were amazing. It was perfect!! I can't wait for her to plan my sweet 16!" ~Teah Mathis

"We appreciate everything you have done for us on our wedding day!! You deserve more than a 5 star" ~Melody Mann

"Donyale was hired as our day of wedding coordinator, but that was just the beginning. She went above and beyond to make sure our special day was flawless. From coordinating the timing of the wedding ceremony to ushering in guests to making sure the guests had water and desserts, she truly made us feel like a guest at our own wedding. We definitely made the right choice in going with All About You Wedding & Event Planning!" ~Pamela N.

"All About You Events was hired to handle my parents' 50th wedding anniversary. They brought my idea to life and executed it flawlessly. They came in and decorated prior to the guests arriving and ensured that the entire party ran smoothly. My guests felt so welcome. It turned out perfect! Thank you AAYE for making that day so memorable for my parents!" ~Anna E.

"Just absolutely amazing! She was extremely helpful and went above and beyond for me!! Can't thank you enough for all your hard work!" ~Emma H.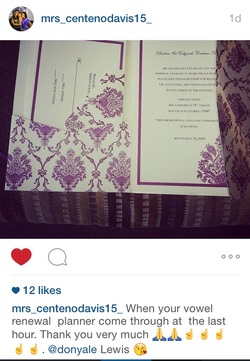 Subscribe to our newletter for great tips, ideas & savings!